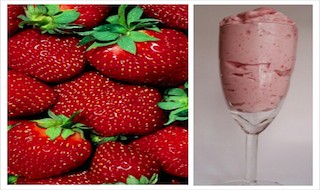 Protein has never tasted so sweet!! This Strawberry Fluff is packed with protein, but definitely tastes like a TREAT!
Serves: 1
Ingredients:
1 scoop Strawberry Protein Powder
1/3 Cup 1% Milk
1/2 Cup Frozen Strawberries
1/2 tsp Xantham Gum
NOTE: Xantham Gum is a food additive that is used in thickening capacities, such as in sauces, salad dressings, soups, etc. You can find it at health food stores or well stocked supermarkets, usually with the "natural" foods and organic grocery items.
Method of Preparation:
In a large, tall container combine all ingredients together and, using a hand blender, mix thoroughly. Then, using the whip attachment, "fluff" ingredients until mixture doubles in size, about 1 minute. Grab a spoon and enjoy!!
Nutritional Information:
170 Calories
27g Protein
11g Carbohydrates
3.5g Fat