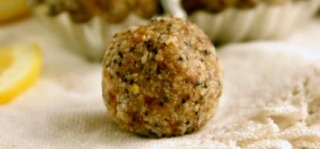 Makes 12- 15 Balls
Ingredients:
1/2 cup Raw Sunflower Seeds
1/2 cup Unsweetened Shredded Coconut
1 1/2 tsp. Finely Grated Lemon Zest (packed)
1/2 tsp. Ground Ginger
1/4 tsp. Sea Salt
1/3 cup Pitted Medjool Dates (packed)
1 tbsp. Poppy Seeds
1 tbsp. Unsweetened Applesauce
In a food processor fitted with the steel blade, process the sunflower seeds, coconut, lemon zest, ginger, and salt for 30 seconds. Add the dates and process for 15 seconds. Add the poppy seeds and applesauce. Process just until the mixture forms a rough dough that holds together when pinched between your fingers.
Roll the dough into small 1- 1 1/2 inch balls. Store in an airtight container in the refrigerator.