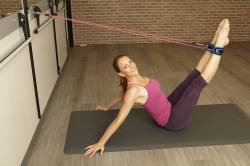 The first time I met Martha, she made a guest appearance in one of Dara's circuit training classes. Dara informed us that Martha would be finishing up the class with some Pilates core work.
"Oh pffft, this is going to be easy, " I thought. I was very wrong. What seemed like the smallest of movements in the routine, made my abs scream for mercy the next day. "How in the heck could they hurt so much from seemingly doing so little?" Welcome to Pilates.
Martha considers herself a California girl through and through. She was raised in the Oxnard/Ventura area, with a brief stint at her father's homestead in Lovell, Wyoming.
Her family was really into athletics, and Martha grew up doing gymnastics, running track, and playing soccer, tennis, and basketball. When she was a teenager, she got into dance, and couldn't get enough of it:
During grad school I performed for a dance company out in Arizona. I was at ASU for my MFA, and BYU for my BA. I knew I didn't want to be in Arizona all my life, though, so I decided to come to LA where I'd be closer to my hometown, my family, beautiful weather, and great dancing opportunities.
I began working for Tracy Anderson Method, and was there for five years training and also managing their studios. Last year I decided to break away from that and head on a new path, where I have more time to focus on Pilates and dancing.
That is how I ended up here at Bionic Body, and I love it! The people here, the energy, the holistic approach… everything is as genuine as it seems. I appreciate the care that is placed into all aspects of the studio, my co-workers, and the brand.
What made you want to become a Pilates Instructor?
My love for Pilates grew out of my love for dance. I was introduced to it while in undergrad getting my BA in Dance, and immediately felt the benefit of it, and wanted to understand it more so that it would improve my dancing. But then I thought it could be a source of income while I got my MFA, so I got certified, and it became part of my profession, as I began teaching it to all my dancing friends. I've been certified now for ten years.
What is your favorite activity to do outside of fitness?
Oh there are a ton of them. I love riding my bike to the beach. I also enjoy all of the festivals and museums that LA has to offer. I have an affinity for tacos in Los Angeles, and am always on the search for great tacos because LA is the mecca for tacos and taco trucks.
Note to self: Get a list of all her favorite taco places!
Where is the best place you've ever traveled?
China. I went there with a bunch of my dancing friends, and we took the Great Wall by storm. At one point we all stopped and jammed out… dancing and having the best time ever. That is an experience I will never forget.
What are some of your favorite books?
I love books. There are so many that have changed my life. My favorites are East of Eden by Steinbeck, The Good Earth by Pearl S. Buck, and Fountainhead by Ayn Rand. All of them were life-changing for me. I also love self-help books, like The Power of Positive Thinking by Norman Vincent Peale, and Art and Fear by David Bayles.
What are five quirks about you?
I often break into song, or emphasize my statements with a dance move. I have an affinity for peanut butter. Is three enough?
Considering you have just as much of a love of peanut butter as I do, I'll let you off with three.
If you weren't a trainer, what other profession would you consider?
If I could sing, I would definitely be a rock star.
What are your favorite summer activities?
Summertime is made for BBQ's, beach parties, and bonfires. Being outside and riding my bike, swimming, and playing kickball (I love kickball).
What is your favorite type of music to work out to?
That is a difficult question… sometimes I want classic rock… AC/DC, and sometimes Beastie Boys and Eminem. If I'm dancing it out… I might be listening to David Guetta or Pitbull. When it's Pilates… it usually ends up being a little more mellow, and not with the same driving intensity… so Imagine Dragons, Feist, or Coldplay. It really depends on the activity.
Be sure to check out one of Martha's awesome classes at Bionic Body. You can see all the class listings on the Bionic Body schedule.

by Martha Howe